Thursday, January 6, 2011
Posted by Sarah Braudaway-Clark at 3:25 PM
Author's note: So, this is the Texas edition of What I Learned Today, but today's post actually has us located in Lawton, Oklahoma, where I spent 9 years of my childhood. It's just a hop and a skip from the border, so it counts. Also, this is my blog, and I say it counts, so it counts.




Mom, in Lawton, I learned that our old house looks pretty much the same...except that the garage that was converted into a bedroom has been converted back into a garage. Weird.





I learned that it's much easier to trespass into a backyard when the house is vacant.





And that even though the neighbor's dog Boomer and his electrified fence are gone, it's still fun to reenact the good times we all used to have with them.




Oh, and the neighbors are still having their lawn spray painted.





I learned that definitive proof that Oklahoma is not completely flat is only a trip to Mount Scott away.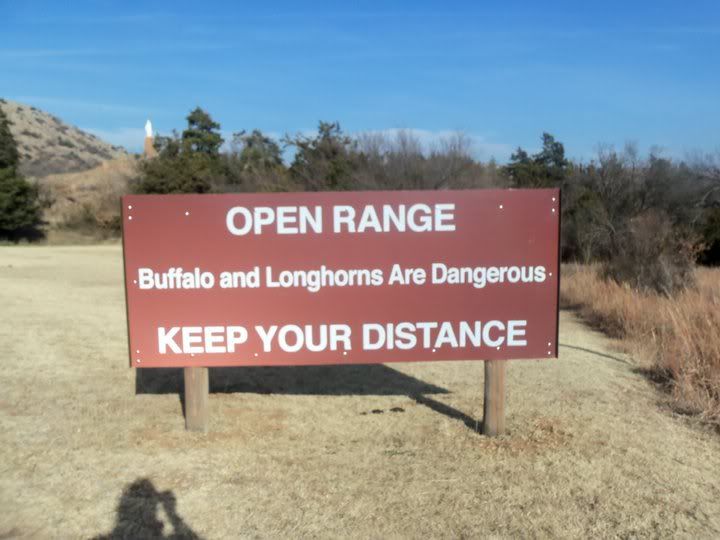 And that if I thought Richard was nervous around the cows at the farm...





I learned that in a place like the Holy City of the Wichitas...





surrounded by things like this...





and this...





and this...





THIS is the type of picture my kids will ask me to take.





And finally, I learned that Meers is famous for good reason.





It's not the snake eating cats...





or their trouble with double negatives...





or the two hour wait before you can eat...





It's the fact that 7 cousins can manage to wait that long to eat without a single meltdown. The crazy awesome food might also have something to do with it.