Friday, July 22, 2011
Posted by Sarah Braudaway-Clark at 11:46 PM
So, today's Awesome Product is not a product in the traditional sense, and you can't even purchase it for another year. You'll find this is a good thing, though. Music, Arts, and Technology Camp is located in Wyoming, and you are probably not, so you'll need a year to get your ducks in a row and plan the trip.

I know you probably have a lot of questions, not the least of which is "Why would I want to go to Wyoming?" I'll write this post as a series of FAQs and will hope I hit all of your potential queries. If I don't, well, refer to the paragraph above for an idea of how much time you have to get all your questions answered.

Q. Why would I want to go to Wyoming?
A. Excellent question and one I asked myself the first time Richard proposed we pack up and head to cow country. It is a little known fact that in Wyoming, everyone smiles. All the time. No matter what. And they give you dollar bills just for coming to a complete stop at an intersection. And there are jugglers performing on most city sidewalks and cobbler is served for breakfast every day.

(Did I overshoot it?)

Okay. I don't know anything about Wyoming as a whole, but what I can say about the little city of Evanston is that it's small enough for a week of peaceful relaxation but large enough that you can manage with most of the usual comforts of your bigger city life. The air is fresh, the nights are quiet, and the sky is full of stars...but there's WiFi at the McDonald's and vegetarian food at Subway. There's not much more I need. You?

Q. So, what is MAT Camp?
A. Stealing from the website: "Students of all ages enjoy 5 days of arts related classes including music, art, dance, and theater." MAT Camp is held from 8-5 in the local middle school building, and there are concerts and activities scheduled most evenings. Friday affords students and teachers the opportunity to show off what they've learned in a series of concerts and exhibits.

The concerts are a really great time to take pictures to commemorate how awesome your spouse is.




But you might want to entrust your camera to someone who knows how to use it when you're the one on stage singing.




Q. Do I have to play a musical instrument to go to MAT Camp?
A. Nope! I've been known to play a piano or two in my time, but I have no interest in taking classes from people who really know how to play and would expect me to play correctly. For me, MAT Camp was all about singing. For my 6 year old, it was all about art. Cate chose only one class with her clarinet this year and spent the rest of her time studying acrobatics, stage management, lighting, and Flash Mob technique. Anyone with any interest in the arts can have a full schedule of classes with or without any major musical background.

I thought about trying a dance class next time...until I saw Miriam execute this move on stage...




Yeah, I think I'll leave it to her.

Next time, though, I'll get over myself and be in the flash mob.




We'll see if Wal Mart lets us back in.

Q. Isn't MAT Camp just for kids?
A. Not at all. Adults are welcome in most classes. According to the website, students ages 2-102 are welcome to enroll. I'm going to go out on a limb here and say they won't actually turn away anyone over 102, so get Great Grandma Juniper's bags packed and sign her up for Stage Combat class. It'll keep her limber. She'll thank you for it!




Q. Just how professional are those teachers?
A. The MAT Camp teachers are so professional, they get paid to teach! But seriously, folks, these are incredibly talented people who intimidated the snot out of me on day one and had me doing things I never thought I'd be capable of by day 5.

Case in point: Vocal Jazz. I don't like to sing on stage by myself. Ever. And by the end of the week, my teacher, Mr. Mike "I Play the Saxophone Like a Madman Because I'm Awesome Like That" Giles not only had me on a stage, singing alone, but singing scat and improv (YouTube video to follow). The following picture sums up my feelings on the matter.




The teachers are pretty good with the visual aids, too. My Chamber Choir teacher taught us to sing from our foreheads instead of our mouths in order to get the best quality tone and allow our voices to carry.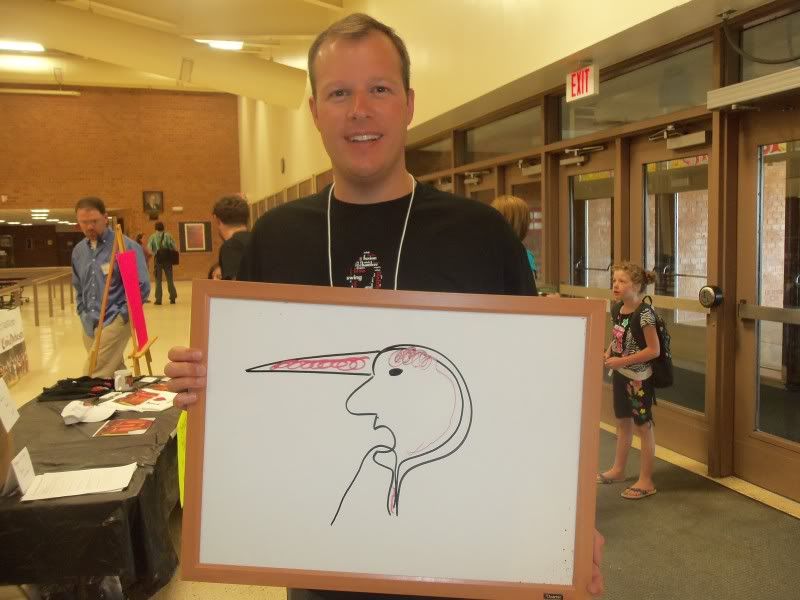 Okay, so maybe this illustration traumatized half the students in the choir. The concept was sound.

Q. How much does it cost?
A. Up to 4 classes a day: $75; 5 or more classes a day: $150. There are opportunities for work study, financial aid, and scholarships, so your camp fee can be significantly cheaper than that. For instance, I attended all of my classes this year for free AND we got a small break on the kids' tuition because I taught a class on blogging. Thank you, my need to make everyone in the world read everything I write.

Q. What if I have other plans that week?
A. Change them. Unless your plans include an extensive hospital stay for a heart transplant, and even then, I think you could work around it, you should make MAT Camp a priority. It's that good. Besides, I'm sure the Evanston Fire Department has defibrillators.

Q. Will you be there next year? I've always wanted to hang out with you.
A. Heck, yeah! If you come to MAT Camp, I will personally hang out with you between classes every day of the week. If they do a flash mob, I will request to be in your group and will sing and dance by your side...unless you sing better than I do, in which case I will sing a few people away in order to appear more talented than I am. Basically, if you come to MAT Camp, I'll be your best friend. With sugar on top. And then we'll go on a nice walk to work it off.

Don't believe me? Check out this year's Sarah Clark BFF: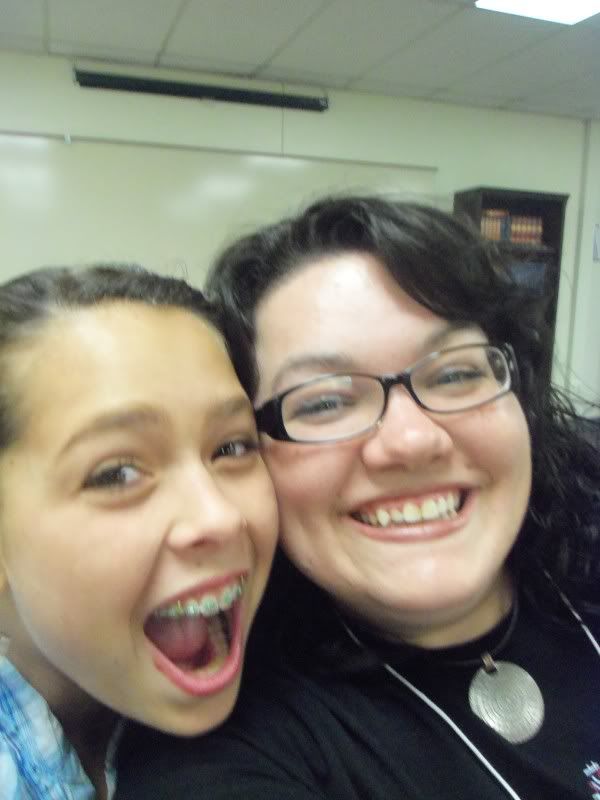 That could totally be you.

Q. How will I remember to register when camp is a whole year away?
A. Oh, you know I'm going to repost this sucker when registration time rolls around. Your job now is to save your pennies and your vacation time. Leave the reminding to me.

Q. Did you miss me while you were at camp and I wasn't there?
A. Terribly. I don't know how you could have done that to me. It was really hard to be there without you, and I feel the only way you can make it right is to come next year. So do it.

Q. Are you just going to keep writing FAQs until I agree to come?
A. You know me so well...