Thursday, June 9, 2011
Posted by Sarah Braudaway-Clark at 2:57 PM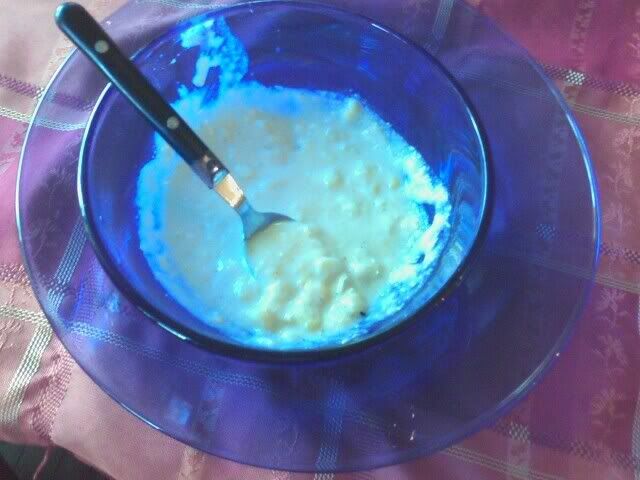 The picture's not the best because I took it with my cell phone mere seconds before devouring this bowl full of deliciousness. A few bites as I made this soup told me I'd done very well, so I had no desire to leave the table and track down my digital camera. I did, however, have a desire to share this recipe with you. Feel loved.

This soup is heavier on the carbs than dinners I usually make, but I figure that it's a fine meal for every now and then. Cheese and milk add protein. Fresh veggies would round the meal out nicely. My family decided they were happy to chow down on slices of the homemade bread the kids and I had made earlier in the day, and Richard had great pleasure in dipping his bread in the last of his soup (both last night and again today, for lunch.)

This is an improvised recipe. I knew I would start it with a white sauce base, and online recipes called for cans of creamed corn to add to it. I'm not a fan of canned vegetables when I can avoid them, so I made my own creamed corn in the blender. Where the recipes called for cream, I substituted skim milk without any problems with flavor. In a perfect world, I would have sauteed onions and garlic together before adding them to the soup. I was short on time, and I have a daughter who is rebelling against onions, so to keep the peace, I settled for garlic and onion powder instead.

The soup is super easy to make and quite tasty.

Ingredients:
32 oz bag of frozen corn
Water
5 tablespoons butter or margarine
5 tablespoons flour
6 cups skim milk
onion powder
garlic powder
Salt
Pepper
6-8 ounces cheddar cheese, shredded

Submerge frozen corn in hot water and heat on low until corn is no longer frozen. Drain. Place half the corn in a blender and reserve the rest. Add just enough water to the blender to cover corn. Blend to the consistency of creamed corn, about a minute. Melt butter in large pot, add flour and mix over medium heat. Add milk and whisk well while heating over medium to high heat. Stir constantly with a wooden spoon until sauce starts to bubble and thicken. Reduce heat to medium low. Add creamed corn, reserved corn, and cheddar cheese. Add spices to taste stir until cheese is melted. Serve hot. Makes about 6-8 servings.